Opinion: Despite promises of transparency, the self-styled anti-establishment defender of renters has turned to developers for money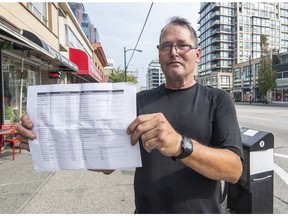 Stan Woodvine found this list of possible donors to Kennedy Stewart's election campaign near city hall. Photo by Francis Georgian /PNG
It is a who's who of Vancouver's lucrative development community, the captains of an industry presiding over one of the most unaffordable housing markets in the country.
A spreadsheet found near City Hall by Stanley Q. Woodvine, a homeless writer, also appears to be Kennedy Stewart's targeted list to raise $738,500 for his re-election as mayor and fund his Forward Together party's campaign.
Sign up to know what's really happening by reading daily editorials and commentary by British Columbia's opinion leaders. 
One column titled "Captains" has names of presidents and senior executives. Another column has goals for each captain to raise. Another, how much of the $270,842 total to-date each has delivered. Fundraising goals for the 37 'captains' range from $5,000 to $110,000.
Even though Forward Together refused to confirm or deny the spreadsheet's provenance, TEAM for a Livable Vancouver asked Elections B.C. late Wednesday to investigate.
TEAM noted that it is not accepting any personal donations from developers because it "did not want the perception that an industry regulated by city council" is also financing its election.
In an emailed response to a direct question about the spreadsheet, Forward Together said in a statement attributed to executive director Mark Hosak: "Like all campaigns, Forward Together is actively fundraising. We follow all Elections B.C. rules. … In August, we were the first campaign to publicly disclose our donor list and will do so again before election day."
There's a lot that's startling about the spreadsheet. The first is that it was printed at all, let alone lost.
But it also speaks volumes about the public-facing campaign versus the private one being run by Stewart, who won election in 2018 trumpeting the need for civic financing reform and greater transparency.
A political-science professor specializing in municipal governance with a doctorate from the London School of Economics, Stewart has written so extensively about these matters that it's an embarrassment of riches when one goes looking for quotes.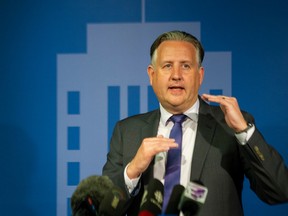 Vancouver Mayor Kennedy Stewart Photo by Arlen Redekop /PNG
In a December 2009 opinion piece in The Vancouver Sun, Stewart wrote favourably about Quebec's law that prohibits donations of more than $1,000 a year and urged B.C. to "draft laws to stem the tsunami of money, some of it foreign, flowing into local election contests" as a means to "re-establish public trust" in the electoral process.
The government did that. Foreign, corporate and union donations are banned and personal donations are limited to $1,250 this year for Vancouver.
Ironically, Stewart mentioned that Raymond Louie, a Vision councillor in 2008, received $80,000 from a single donor.
Now CEO of Coromandel Properties, Louie is one of the 'captains' listed on Stewart's spreadsheet who has delivered $2,500 and has a goal of raising $25,000 more.
He's not the only former politico targeted. Vision Vancouver's former executive director, Stepan Vdovine, is tapped to raise $18,700. He's now business development director at land developer Amacon.
Former B.C. NDP president Craig Keating's goal is $12,500. He's Strategies 360's vice-president of municipal practice.
Louie may also be the "Raymond" listed in a note beside 'captain' Terry Hui's name. Hui is head of Concord Pacific with a goal of $31,250 in addition to $8,200 delivered. In the notes section, it says, "Raymond following up."
Aside from a seeming conflict between what Stewart has written and what he's done, there's a disconnect between Forward Together being positioned as a grassroots movement and defender of renters against the landowning and land-developing establishment.
The August disclosure of $1.13 million raised between May 2018 to June 30, 2022, noted that the average donation was $175 and included a comment from Hosak that Stewart and Forward Together "believe it is essential voters know who funds politics in this city, before anyone casts their ballot."
But, it now seems clear that the real money is coming from the vested-interest establishment including Jon Stovell, whose Reliance Properties has done two high-profile "renovictions" in the West End.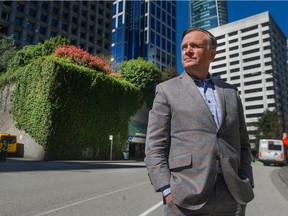 Jon Stovell of Reliance Properties stands near a parking garage at the corner of Melville and Thurlow Streets in downtown Vancouver, BC Wednesday, April 14, 2021. Photo by Jason Payne /PNG
A note beside Stovell's name indicates a followup email about a $12,500 donation goal was sent to him on Sept. 2 from "NM".
That's possibly Neil Monckton, who continues to collect his $126,366 salary as the mayor's chief of staff and the "Neil" noted elsewhere on the spreadsheet.
Monckton has been on unpaid leave from the position since Sept. 10.
The email was sent only days after Reliance revised its rezoning application for a 25-storey rental building at Davie and Hornby streets. Now, it proposes only condos.
'Captain' Francesco Aquilini, a Vancouver Canucks' owner and land developer, has the highest fundraising target of $110,000 with a note that $64,350 has already donated this year.
Ian Gillespie, head of Westbank Properties and Creative Energy, also got a followup email from NM about the $25,000 goal. It was sent Aug. 30, a week before Prime Minister Justin Trudeau announced a $1.4-billion loan for Sen̓áḵw, which Westbank is co-developing along with the Squamish First Nation.
'Captain' David Negrin, CEO of the largest landholding company in Vancouver — MST Developments, owned by the Squamish, Musqueam and Tsleil-Waututh First Nations — is halfway to his set goal of $5,000.
Arnold Silber (Value Property Group), Ajay Dilawri (Dilawri Group of Companies) and Carol Pan are listed at $50,000, while Colin Bosa/Jeff Skinner (Bosa Properties Inc.) and Beau Jarvis (Wesgroup Properties) at $37,500.
Other captains include executives from development companies Canadian Metropolitan Properties, Onni Group, Jameson Development, Rennie Properties, Wesgroup, Intracorp, Molnar, CBRE Canada, Conwest Group, Bogner Developments, Strand, Pennyfarthing Homes, and Third Space Properties.
Since the spreadsheet was found, it's no surprise that other parties haven't piled on with criticism.
In their silence, they are — no doubt — thanking the electoral gods that it wasn't their fundraising documents that fell into the wrong hands.