He has the charisma of not being charismatic
 Pierre Poilievre meets hundreds of supports in Prince George on Friday night, April 8, 2022.
It is not the Wedding Feast at Cana but to some it's close to an equal transformation. It belongs in the category of things, like turning water to wine, that are not supposed to happen, things which defy the common order of nature.
What could I be referring to? There is obviously only one answer. I refer to the campaign of a gentleman, whom I saluted in these very pages not so long ago as the talented Mr. Poilievre. The terror of Question Period as he is tremblingly known in the anxious precincts of the Liberal front bench is in the very early days of his campaign for the Conservative leadership. And already he has exploded the basic understanding of what Canadians have always understood of such campaigns; that they should be criminally dull, stocked with grey and forgettable candidates only, and conducted with less excitement than a bowl of three-day old oatmeal.
Something almost unforgivable is occurring at his rallies, something surely beyond the foresight of even the country's most perceptive pundits.
People are showing up to them. In large numbers. Correction, in numbers that would sate the ego of a rock star. Whether it's Toronto or Lindsay or Vancouver or Kelowna or Vernon, it's packed halls and overflow crowds. What can this mean? It is certainly not the leadership contest itself, for out of the double handful of other contenders most at this stage can only name two or three, and most of the whole lot can only draw a trickle of supporters to their, almost private, appearances.
What can account for this phenomenon? I would like to put it down to Pierre Poilievre's instant rejection of the Trudeau carbon tax — a rejection without equivocation. He promises not to pause it, he is not against it because it is coming at a bad, inflationary, time. He's just against it. And it does amount to something when any political figure outright and without qualification stomps on the cardinal (useless) pillar of this government's obsessive global warming fixation. It shows a certain clarity of mind and more than a glint of sanity, neither characteristic overabundant in current politics.
It is also a signal, which I hope arches into a full beacon, that the war against the western provinces, which is what in effect the global warming crusade amounts to, will end, that the terrific burdens placed on Alberta and western industry by this manic crusade will be lifted.
However, Poilievre's rejection of the carbon tax alone is not what explains the multitudes that have gathered in places other than the predictably favourable regions of the country.
There has to be something else. Is it charisma? That peculiar and unaccountable grace of person or manner that singles out certain public figures and wins them special status. We have in fact had a very prominent recent example right here in Canada, though the fund of that particular charisma has been seriously overdrawn of late. It may even, like the budget, be in serious deficit.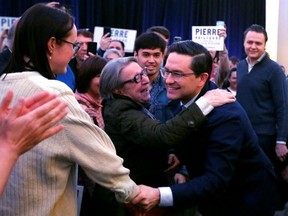 Conservative leadership candidate Pierre Poilievre arrives at an anti-carbon tax rally in Ottawa on Thursday, March 31, 2022. Photo by THE CANADIAN PRESS/Patrick Doyle
Well, Mr. Poilievre has been pointed at in the press for numerous reasons. Some see him as an attack dog. If I may jumble the metaphor that is a hound that will not hunt. He is a precise and logical questioner and performs the role of opposition voice — whenever Mr. Trudeau allows the Commons to function — efficiently and with style. Some others in the press portray him as mean, and they may even believe that. They are mistaking rigorous criticism with an aspect of temperament. But few or none have even celebrated or remarked on his "charisma."
No. He is not charismatic. And that's, in this moment, his gift.
Or to state matters another way, he has the charisma of not being charismatic. Bells, whistles, tinsel, glitter and lights are all very fine in their way, and in due proportion. They surely add to any performance. But without the performance, without the actual show itself that is all they are … just bells and whistles, tinsel and glitter, and light on an empty stage. At best, over time, a tiresome irritation, at worst a cheat.
My guess at why Poilievre has caught the moment and draws such eager numbers is precisely that he is not, in the way journalists use the term, exciting. That what some might call dull is actually substance. And substance has been on a long and painful holiday from Canadian politics for half a decade.
Sweet words in a soft voice, pious musings and aching apologies, ever-so-earnest declarations of personal and political virtue — it's all gotten just a little steamy in the house of Canadian politics. So along comes a grounded, deliberately unflashy, solid-in-his-convictions candidate, and — most important — one who believes that Canada has core values, and should not be the servant of global climatism, and no wonder the crowds show up.
They have been waiting for a change.
他有沒有魅力的魅力?
 皮埃爾·波利耶夫爾於2022年4月8日星期五晚上在喬治王子城會見了數百名支援者。
這不是迦拿的婚宴,但對某些人來說,它接近於平等的轉變。它屬於不應該發生的事情的範疇,比如把水變成酒,這些事情違背了自然界的共同秩序。
我指的是什麼?答案顯然只有一個。我指的是一位紳士的運動,我不久前在這些篇幅中向才華橫溢的波里耶夫先生致敬。在自由黨前排的焦慮選區中,他顫抖地被稱為"問題時期"的恐怖,正處於他競選保守黨領導層的早期階段。他已經爆發了對加拿大人一直對此類運動的理解的基本理解;他們應該是犯罪沉悶的,只放滿了灰色和容易被遺忘的候選人,並且比一碗三天大的燕麥片更興奮。
在他的集會上發生了一些幾乎不可原諒的事情,即使是該國最敏銳的權威人士也肯定無法預見到。
人們正在向他們展示。大量。更正,以數位來滿足搖滾明星的自尊心。無論是多倫多、琳賽、溫哥華、基洛納還是弗農,這裡都擠滿了大廳,人滿為患。這意味著什麼?這當然不是領導權競爭本身,因為在現階段,在為數不多的其他競爭者中,大多數只能說出兩三個名字,而且大部分只能吸引一小撮支援者到他們的,幾乎是私人的,出場。
什麼可以解釋這種現象?我想把它歸結為皮埃爾·波利耶夫爾立即拒絕了特魯多碳稅——毫不含糊地拒絕了。他承諾不會暫停它,他不反對它,因為它正在一個糟糕的,通貨膨脹的時刻到來。他只是反對它。當任何政治人物直接和無條件地踩踏本屆政府癡迷於全球變暖的主要(無用)支柱時,這確實相當於某種程度。它顯示了某種清晰的頭腦和一絲理智,這在當前政治中都不是多餘的特徵。
這也是一個信號,我希望它變成一個完整的燈塔,對西部省份的戰爭,實際上就是全球變暖的十字軍東征,將結束這場狂躁的十字軍東征給艾伯塔省和西部工業的可怕負擔。
然而,Poilievre拒絕碳稅本身並不能解釋聚集在該國可預測的有利地區以外的地方的眾多人。
一定有別的東西。是魅力嗎?這種特殊和不負責任的人或舉止優雅,挑出某些公眾人物並贏得他們特殊地位。事實上,我們最近在加拿大有一個非常突出的例子,儘管這種特殊魅力的基金最近被嚴重透支。它甚至可能像預算一樣,處於嚴重赤字狀態。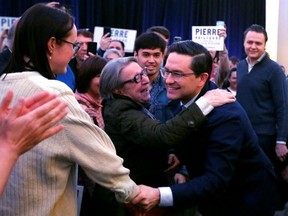 保守黨領袖候選人皮埃爾·波利耶夫爾於2022年3月31日星期四在渥太華舉行反碳稅集會。 圖片來源:加拿大媒體/派翠克·道爾
好吧,由於多種原因,普伊利耶夫爾先生在媒體上被指出。有些人認為他是一隻攻擊犬。如果我可以混淆比喻,那就是一隻不會狩獵的獵犬。他是一個精確而合乎邏輯的提問者,在特魯多允許下議院運作時,他以高效和有風格的方式扮演著反對派聲音的角色。媒體上的其他一些人將他描繪成卑鄙的,他們甚至可能相信這一點。他們把嚴謹的批評誤認為是氣質的一個方面。但很少有人或根本沒有人慶祝或評論他的"魅力"。
不。他沒有魅力。而就在這一刻,這就是他的禮物。
或者換一種說法,他有不魅力的魅力。鈴鐺,口哨,金屬絲,閃光和燈光都非常精細,並且比例適當。它們肯定會增加任何性能。但是沒有表演,沒有實際的表演本身,這就是他們的全部……只是鈴鐺和口哨,金屬絲和閃光,以及空舞臺上的燈光。充其量,隨著時間的推移,一種令人厭煩的刺激,在最壞的情況下是一種欺騙。
我猜想為什麼波里耶夫爾抓住了這一刻,並得出了如此熱切的數位,恰恰是因為,就記者們使用這個詞的方式而言,他並不令人興奮。有些人可能稱之為沉悶的東西實際上是實質。五年來,加拿大政壇一直是漫長而痛苦的假期。
輕柔的聲音中的甜言蜜語,虔誠的沉思和痛苦的道歉,對個人和政治美德的真誠宣言 – 這一切都在加拿大政治的房子里變得有點悶悶不樂。因此,一個腳踏實地、故意不張揚、信念堅定的候選人出現了,而且——最重要的是——一個相信加拿大有核心價值觀的人,不應該成為全球氣候主義的僕人,難怪人群會出現。
他們一直在等待改變。
Read, Hear or Watch the Rising Channels
Take notes and hold the line.
Matters to the Village of Vancouver
Selfology Library